Two pieces- One Tree: The first an eerie yet comforting, almost nostalgic photograph. The second a spooky abstract of drifting mists and haunting moments..
Sunbreak Behind a Creepy Tree
This image was captured from a moving car, using a lens from a pair of broken sunglasses as a filter. The image is very raw, as reflected by the bit of reflection at the bottom. But I really like the juxtaposition of the blur and shine of this 'mistake' against the delicate intricacy of the 'creepy tree' branches. The reflection balances the light of the sun and in balance with the dark negative areas around the bottom edges helps to weigh the image down, to ground it, as it were. I find this image eerie but not unnatural, almost comforting.
And-
Abstract with Creepy Tree: Ghost Story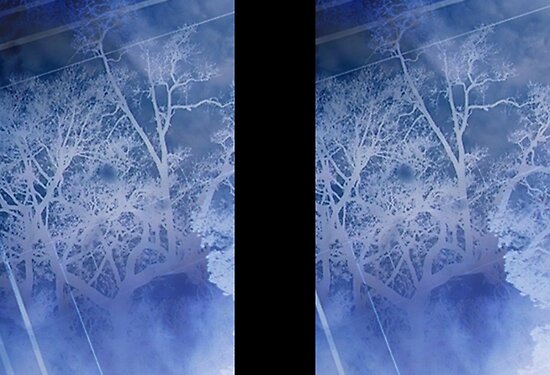 This piece reminds me of a ghost story- a lonely girl under a singular tree, mists rising, and darkness creeping in. The lines (originally powerlines) are entrapping, restricting, unyielding- the finality of the end of the story, the record, the unavoidable, the rose on the grave, or the abandoned sweater on the passenger seat- the proof that she really happened, this wasn't a dream.