Started with....
my dog <3
Added the negative image blended on a diagonal...
Creating...
Then...
Creating...
This is where it gets a little bit complicated.
(I'm a little unsure of what I did at this point)...
I definitely rotated the image 90 degrees to the right-
There was definitely some 'film grain' filter applicatiion-
Eventually I had this-
See this part...?
This part...
I recreated these to show where the butterfly came from-
Flipping the wing shape along the gray axis arrow created this...
You can see it better here...
See them?
Butterflies!!


But I really have no recollection of how I got from here...
to here...
But eventually I had this image.
I flipped the wing in this image to make the actual butterfly image in
B
utterfly in Flowers
...

See it...
Flip it...
And there you have it...
(I'm creating a new print or series of prints from this one.)
Then negate it and add a little contrast and adjust the color saturation...
You may also recognize the beginnings of the flowers...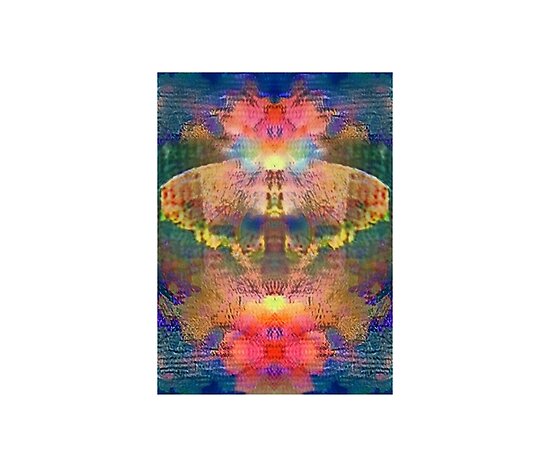 In creating this posting, I have recreated images in order to illustrate what I did. I tried to repeat my actions as truthfully as possible. But honestly, sometimes in the heat of the moment I forget to hit 'save'. In recreating the steps I took to create
Butterfly in Flowers
, I was inspired to create many new pieces. This posting has inspired a whole new series I'm referring to as 'the Butterfly series'. There will be an upcoming post about the new works, but I think this one is quite long enough. Hope you enjoyed :)